Ka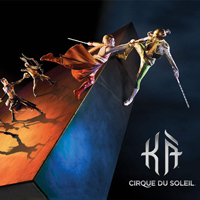 Duration: 365 Days (approx.)
Product code: Ka
KÀ by Cirque du Soleil is an unprecedented theatrical event. A masterpiece in storytelling, KÀ uses acrobatic performances, the thrills and action of martial arts techniques from all over the world, plus innovations in puppetry and multimedia to tell the epic tale of twins on a perilous journey to fulfill their shared destiny.
Along the way, the twins confront characters and events representing the opposing forces of good and evil. Before their world comes under attack and collapses around them, the twins receive a magical talisman for protection. As the plot unfolds, danger lies in wait for them at every turn.
KÀ brings the visual language of cinema to a dazzling live event that is more about storytelling than any previous Cirque du Soleil production. Experience the unbelievable heroic tale of twins who embark on an adventurous journey to fulfill their destinies. Featuring 80 artists from around the world, KÀ by Cirque du Soleil is a production featuring acrobatic feats, Capoeira dance and martial arts.